PRSA Western District was the first audience to hear our "secret sauce" for going Beyond Facebook Insights.   It's not enough to look at the Facebook Insights in the native dashboard at your branded page.   In order to study what works, test and learn, and supply data to marketing mix analysis exercises you'll have to move beyond single-page displays of data to apply measurement across brands and across tactics and to compare content variations.  We have 6 hacks that take you to a new, more meaningful way to evaluate effectiveness for our brands.
#1     Get The Data, Keep It, Combine It
Export the data.  Export the page level Facebook Insights.  Export the post level Facebook Insights.  Put them into a spreadsheet or database that combines them together.  How else could you compare them side by side or evaluate common elements that cross brands?
#2    Improve It
Add a little math to your data.  Calculate an engagement rate for every post, an average engagement rate for any set of posts, and an average and total reach for that set of posts.  In general, you should compare engagement and reach as the elementary metrics for analysis.
#3    Search & Discover In It
What do you want to study?  All the posts with a certain keyword? Which content gets the most reach?  Which calls to action get the most engagement?  Now that you have the data in your own little repository,  slice it and dice it to evaluate the engagement and reach for any subset of the posts you've made.  Don't forget to separate paid and organic posts – they behave very differently.
#4    Categorize It
In order to segment Facebook posts by themes or tactics that are not evident in a key word search, add a few elements that describe each post in ways that allow you to compare groups of posts with different characteristics.
#5     Visualize It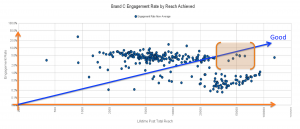 Make a graph with those basic metrics (engagement and reach).  What can you notice about patterns and trends that helps you to do more of what works and less of what doesn't?  Graphs give us a visual way to see where success lies.
#6    Get It In the Mix
Now total the reach of your posts by week and proudly take that and the costs for your Facebook posts and let them stand side by side with other marketing tactics in your company's mix models.  Prove that your posts affected sales or other brand outcomes.  Compare return on investment with other digital marketing and communication efforts.  You will be surprised at how well they compare.